Freelance Solution Architect / Environmental Architect
Remote or Copenhagen, Denmark Asap 6 months with possible extensions
About the position
For one of our retail customers, we are looking for a Solution Architect who has experience with information models and with getting Master Data to live in a new BI platform. Our client has an architect, who is busy with many other tasks, and this is where you come into the picture.
Tasks
Database design and database optimisation
Help bring things to life on a new platform, an OSS (Operations Support System) platform which the customer is implementing.
Communicate with vendors about set-up and physical database design.
Transform information requirements – and describe the process of data flow in the new BI environment
Analyse information – from the need to the structure of databases and set up the environments around this and collaborate with BI in relation to the Master Data they provide. The customer has a solution architect on the BI side / in the BI organisation with whom you will cooperate
Data modelling, as you want to help build a platform to implement our customer's data
The customer's Master Data include, for example, information about stores, products and customers as well as financial and organisational hierarchies that must interact and form the foundation for the BI set-up. You will ensure that Master Data support the information from stores and factories from which data are to be processed so that transactions can land on the BI shelf as efficiently as possible. You need to help make this work.
Roll out Master Data. Ensure that the way data is delivered in relation to transactions is supported so that BI can use data to make reports.
The existing platform is a Boomi Master Data HUB, but knowledge of this is not required.
A migration is required, so you need to have knowledge of API's. Data are provided from the Boomi platform, so you should have knowledge of Dell Boomi and integrations to Azure.
Background
The customer has commenced this project, and things are moving fast. The old platform was built as a kind of symptom treatment, because the company has grown rapidly, including buying new companies. The old platform is now too slow, so the customer has to start over in relation to data flow view and process view.
Data analysis platform – target architecture: See photo on this post.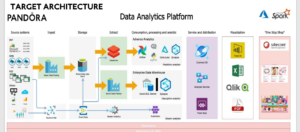 Duration
Start: asap
The assignment runs for six months with possible extensions.
Location: either Remote or onsite in Copenhagen, Denmark
Contact
Heidi Kelman Christensen
T: +45 5352 8899
E: heidi@dba-consult.dk
Please also upload your CV to our database:
Apply for job
If you want to apply for the job or have further questions, please contact Peter Heide Heidi Kelman Christensen and learn more. If you apply per. mail, please remember to attach your CV.
+45 5352 8899
heidi@dba-consult.dk